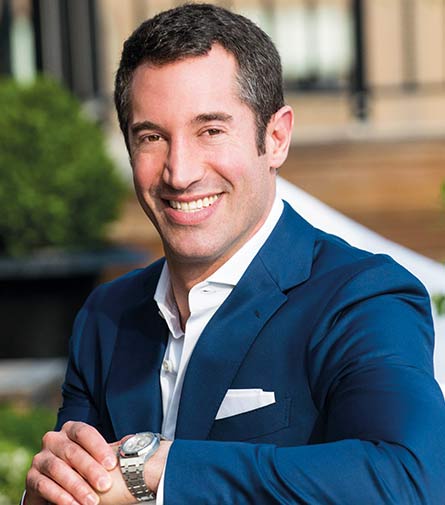 Daniel A. Etra, CEO
Individuals with an Autism Spectrum Disorder(ASD) already find it very hard to navigate the world around them Difficulties in social communication have always withheld them from obtaining quality healthcare. Various clinicians and caregivers are trying to adopt technologies and therapies to improve communication with ASD patients so that their needs, healthcare or otherwise, can be appropriately comprehended and catered to. Behavioral intervention is a promising approach in this regard were ASD patients can be taught behavioral cues that are easy for their caregivers to understand and interpret. Enter Rethink—an enterprise that automates the clinical workflow pertaining to behavioral intervention plans and trains caregivers in comprehending and providing for the needs of ASD patients.
In an interview with MD Tech Review, Daniel A. Etra, CEO of Rethink, shares how the Company leverages its cloud platform to drive scalable delivery of clinical best practice behavioral intervention.
When it comes to treating ASD patients, what are the significant pain points that your clients face? And how does Rethink address that?
The most significant pain point is the shortage of trained professionals—behavioral therapists who are trained and qualified to practice Applied Behavior Analysis (ABA). There are only about 30,00 board-certified behavioral therapists globally, and there are hundreds of millions of individuals with a developmental disability for whom behavioral therapy is medically recommended, indeed a massive demand with a highly limited supply of resources. We seek to address this problem by allowing organizations that serve this population to deliver best practice therapy in a scalable manner. We also put best practice tools in the hands of caregivers. Even if one is not a trained clinician, we can teach them and show them how to deliver behavioral intervention.
We see this application at work in public school systems, and also with employees of Fortune 100 to 1000 employers. In the healthcare system, we provide behavioral health providers with a fully integrated practice management platform to allow them to effectively and affordably deliver best practice treatment to the ASD population.
Could you elaborate more on some of the core features and functionalities of your solutions from a user's standpoint?
At the core, we automate the workflow that goes into delivering clinical best practice intervention. We automate everything from staff training, creating an intervention plan, data tracking and reporting, scheduling services, billing, and revenue cycle management with a single integrated platform. We combined a proven method of behavioral therapy treatment, (ABA), with a proven method of instruction, video modelling. Our content features over 1500 video-based teaching steps to train clinicians and caregivers who work with individuals on the autism spectrum as well as with other developmental disabilities.
We automate everything from staff training, creating an intervention plan, data tracking and reporting, scheduling services, billing, and revenue cycle management with a single integrated platform
There are also built-in assessment tools in our solution. Using video representation, we show whoever the caregiver is—be it an educator, a caregiver at home, a professional working for an agency—a best practice way to deliver treatment. We then assess outcomes via an EMR system on the backend, which automates all the data tracking and progress recording.
We've also recently expanded our offering to support employees in the workplace with a neuro-diverse condition. These are employees with non-visible, non-physical disabilities. We help HR and other team managers to make the right kinds of accommodations to allow such individuals to be successful. Hence, we can extend our ability to support this population from the point of diagnosis all the way to adulthood.
How essentially can your clients go up and running with your solution?
As cloud-based platform we are essentially plug and play so no system integration is necessary. Depending on the market, whoever needs our solution—be it a school system, an employee caregiver, or a behavioral health provider—we can grant access by essentially flipping a switch Such ease-of-use and scalability is a reason why we have been so successful in the market.
Please share a customer success story with us where a client came to you with a challenge and how you helped them overcome it.
Costco, one of our corporate clients, has a large population of employees caring for individuals with autism and related disorders. When we deployed our solution with Costco, we received feedback from their Director of Benefits, Donna Saxton, noting that of all the benefit offerings that they provide to their employees, Rethink had the most significant amount of outreach from the employees to the President of the company, thanking him for offering the Rethink program and noting what a difference it was making in their lives. She said she had never seen anything like this with any other benefits offering. I think that speaks to the tremendous value that we continue to drive within the employer vertical.
What, according to you, are the key differentiating factors that distinguish Rethink from its competitors?
We combine staff training, intervention plan creation, automated data tracking, and reporting, all into a single integrated platform. That is why we are the leading platform for supporting the special needs population—whether it be in a school system or the employer market. Though some firms do parts of what we do like billing or practice management, no one has a fully integrated clinical workflow solution like ours. In the payer market, no one has created a tool like ours that houses capabilities ranging from medical necessity assessments that establish the right dosage of intervention for a patient, to a tool that helps manage provider networks, to the ability to capture and analyze outcomes data across the ASD population to help in areas such as predicting a treatment's outcome trajectory. Such critical factors make us the leading behavioral health technology platform focused on people with autism and related disorders.
Where do you see yourself in the near future? Are there any new features or rollouts that you might bring about?
One of the areas we are expanding into is some of the mental health issues that the caregivers of people with autism-related disorders experience. These caregivers often have significantly higher incidents of mental health issues such as depression and anxiety. So much of the healthcare systems focus is on addressing these needs once they're diagnosed in a caregiver. We see a big opportunity to support caregivers in advance and provide them the right tools so that it doesn't get to the point where they experience those significant mental health issues.
We believe that you have to bring a holistic approach to treat such issues. One cannot think of treating a patient with an ASD in one silo and expect the healthcare systems to address the mental health needs of caregiver in a different silo when they are linked. One needs to bring such an integrated approach to solve the treatment needs of both the dependent as well as the caregiver. This is an area that we will be expanding into, and we know that we can have a meaningful impact.